Wowza. Connor is a dream to work with. I came to him with a photo of a mass-produced dining table I was going to order from who the heck knows where and he was confident he could replicate it and then some... and that's exactly what he did. He took the idea through the design options, really got a sense for me and what I was looking for, understood my budget, and made a gorgeous black walnut round top dining table on an original Eero Saarinen tulip base that he secured through an auction and brought back to life through a durable and beautiful powder coat finish. The dining room was completely transformed. Originally, I had him put a brass band around the table edge - because it matched the photo I originally liked. Even though he advised against, he did it. And just as he suggested, it ended up not working out right. So he actually came back, took the table, brought it back to me, and now it's perfect. He totally sticks by his work- because- he can. It's quality craftsmanship. Period. He knows exactly what he's doing. And it's pretty darn cool to have pieces made by a local versus an import. Have him design a piece for you or show him what you want- he will deliver beyond your expectations.
-Dena d.
We were luck enough to find Conner on IG and he did a perfect job creating our kitchen table. From the first time we met with him he was so excited and passionate to create exactly what we envisioned. He was on time with his delivery and we couldn't ask for more. He exceeded our expectations! Thanks again Connor! -david w.
I am obsessed with my Rockridge dining table. Connor was great to work with; the guy has a phenomenal attitude, loves what he does and knows what he's doing. He was responsive and super-helpful with walking me through the design process (I even got to watch his progress online!). I was happy to learn he uses plant-based, environmentally responsible, sustainable, nonpolluting finishes which was really important to me. Pricing and turn-around time were great. I'm left with a lovely experience and the most beautiful table that I know will be in my family for a long time. Will absolutely be ordering from Rockridge again.
-Maureen D.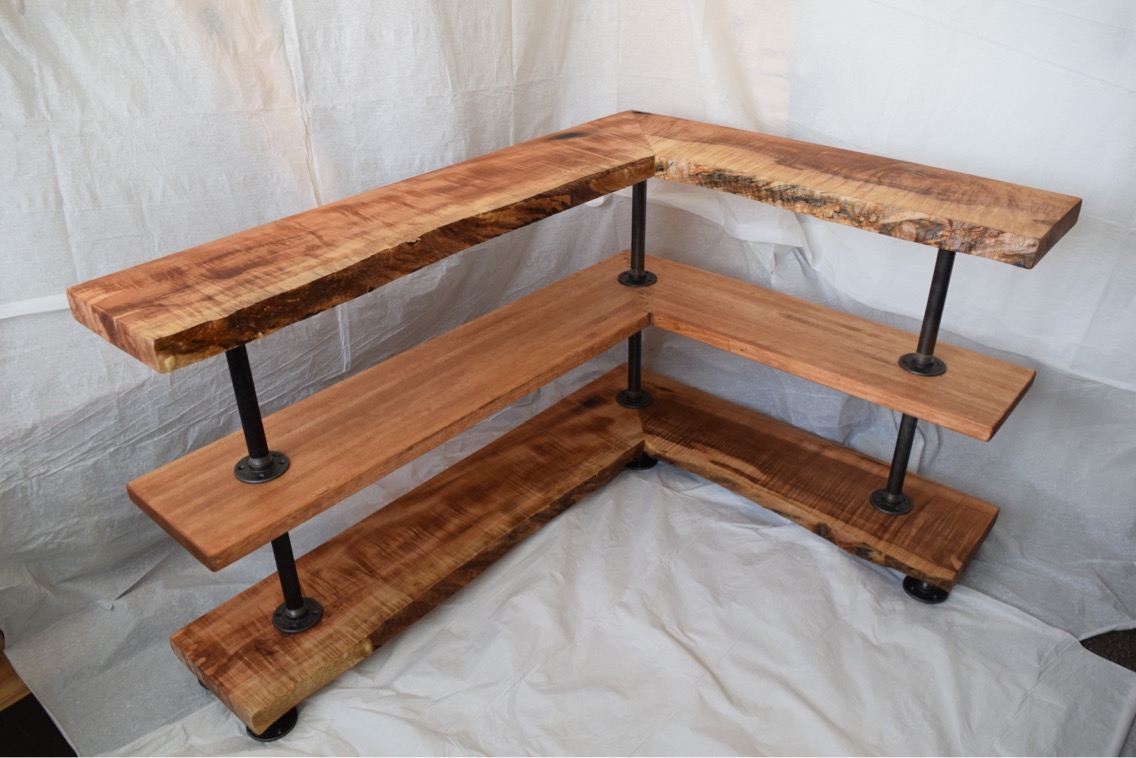 I have purchased three pieces of art from Mr. Mcgivney: end tables, shelves, and a kitchen table. I have never been as satisfied by the products and the service of a company. 14/10. Would vigorously recommend. -Pat r.
Connor built the custom work desk of our dreams. I can't speak highly enough of both his craftsmanship and professionalism. He's truly a talented artist and we're already looking forward to having him build more furniture in the future! -Cory t.
Rockridge Table Co. began as a hobby in 2014. My pup and I were living in a tiny house that I had built in 2012 in the Rockridge neighborhood of Oakland, CA. Initially all of my projects were made exclusively from re-purposed materials from around the bay area, as there were a few resource-recovery facilities nearby. We have since moved across the country back to the east coast and are currently based in the Fishtown neighborhood of Philadelphia.